http://resinheroes.com/wp-content/uploads/2014/02/photo-2.jpg
968
1296
Resin Heroes
http://resinheroes.com/wp-content/uploads/2014/01/resin_heroes_logo.png
Resin Heroes
2014-02-04 16:36:18
2014-09-04 11:46:44
Tim and Sean pouring the base for The Rocketeer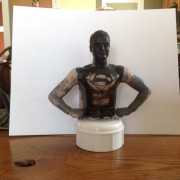 Nearly done with this Superman bust of George Reeves. We're planning to start making molds of this in the next few weeks and should be ready to cast by the end of the month.
http://resinheroes.com/wp-content/uploads/2014/02/superman.jpg
968
1296
Resin Heroes
http://resinheroes.com/wp-content/uploads/2014/01/resin_heroes_logo.png
Resin Heroes
2014-02-04 16:30:40
2014-09-04 11:46:44
Superman (George Reeves) bust nearing completion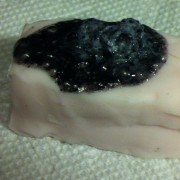 We were doing some experiments in coloring flesh colored resin black for a project we were working on, but whenever we added any color to the resin we got some "interesting" results. Mostly that the resin bubbled and smoked like a witch's cauldron and was completely unusable.
We finally ended up casting in the flesh color they dying the resin a darker color. We still had to paint the cast, but hopefully if the paint rubs off it the darker resin showing through won't show through too badly.
Resin 1, Resin Heroes 0.
http://resinheroes.com/wp-content/uploads/2014/02/image1.jpeg
688
1005
Resin Heroes
http://resinheroes.com/wp-content/uploads/2014/01/resin_heroes_logo.png
Resin Heroes
2014-02-04 16:29:05
2014-09-04 11:46:44
Resin Experiments