A few months ago we were approached by one of our Facebook fans to create some custom action figures. Custom requests aren't out of the ordinary — we get requests for custom toys all the time at Resin Heroes. The difference here was the subject matter. Our client wanted us to turn her family into 1/6 scale action figures for surprise Christmas presents!
Now, we've been asked to sculpt everything from the characters from the classic I Spy television series to the DC Comics character Starfire, and everyone in between. But we have to admit, this is the first time we've ever been asked to sculpt a family.
We, of course, jumped at the challenge.
The idea behind the commission was that we'd be creating superhero action figures of the father and his two boys. The client requested that we create new superhero costumes for everyone and that her kids should be sculpted with mohawk haircuts.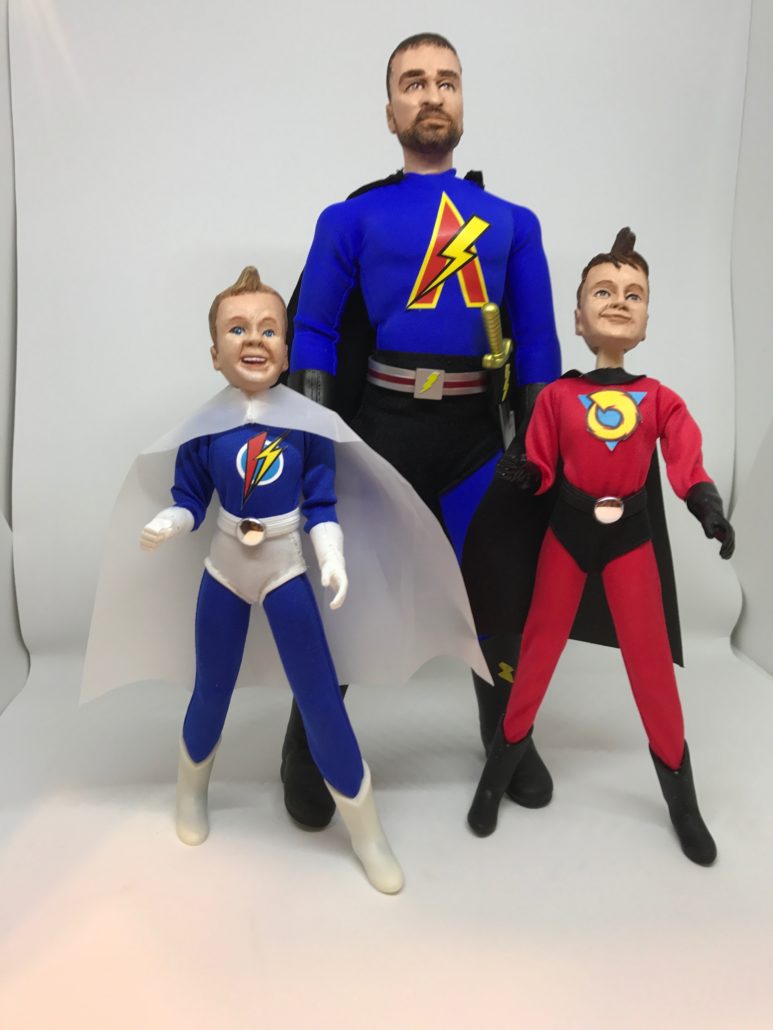 Last fall Sean began the sculpting process, first starting with the kids then the dad. As Sean sculpted Tim began creating the figures, finding the appropriate bodies and creating the costumes. Tim went above and beyond by creating logos for the figures. "AOK Super Team" being the first letters of everyone's first names. He also did the layout and graphic design for the cards that were to go in each figure's blister pack.
Along the way we shared development photos with the client who was very happy with our progress. The biggest challenge for our client was keeping this extremely unique Christmas gift a surprise from her husband and kids.
After Sean was done with sculpting, he and Tim cast and created molds of each head, then created resin heads from each mold. After Tim painted each head and we placed the figured in the blister packs, we delivered them to the client who was ecstatic.
We couldn't be happier as to how these one of a kind Christmas presents turned out either.
Contact us if you're interested in getting something similar for a member of your family.