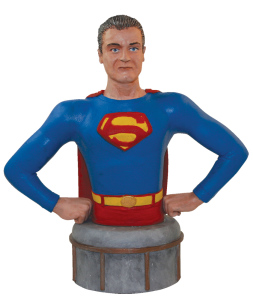 "Look, up in the sky! It's a bird! It's a plane! It's Superman! "
Great likeness of Georges Reeves in the iconic 1950s Superman role. This resin garage kit comes with 4 pieces – the head/torso, two arms and a base. The kit is 1/6 scale and measures 6.5″ tall. .
Please note: You'll receive an unpainted kit of this bust that you'll put together yourself.
Price: $55.00 = $47.50 + 7.50 shipping inside the United States

For orders inside the US:
For orders outside the US, please contact us for shipping charges.