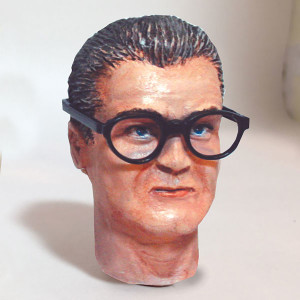 "This is a job for Superman!"
Custom sculpt of George Reeves as Clark Kent from the classic 1950s TV series. It is a 1/6 scale head cast in resin. It is perfect for a custom 12″ action figure. This version comes with a pair of removable glasses.
Please note: You'll receive an unpainted resin cast of this head and a pair of glasses.
Price: $19.50 = $17 + $2.50 shipping inside the United States

For orders inside the US:
For orders outside the US, please contact us for shipping charges.